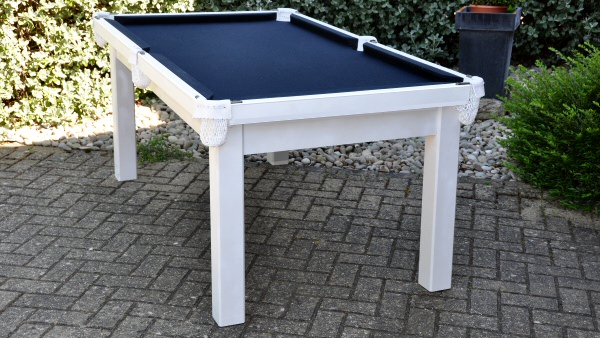 The pool diner playing surface is best-quality Italian slate. Competition quality cushion-rubber is used. with the option to use competition-quality speed cloth or napped cloth (napped cloth requires more protection and maintenance for outside use).
All timber parts are protected with 3 coats of brushed-on exterior paint. All adhesives are water resistant. All screws and fixings are appropriate for exterior use.
With appropriate care, and the use of a tarpaulin or similar when the table is not in use, the table will be resistant to weather damage. Because the snooker table superstructure is fixed to a drilled solid slate the table will resist warp or movement. If an exterior-plywood playing surface is used (because there is no outside concrete-base) the bed is strengthened by steel-struts, which again will mitigate against warping.
This style of table can also be made for indoor use and is ideal for kitchen or study use
Made-to-order
All outdoor pool diners would be made to order and built on-site
◄ Homepage