PAINTED PINE POOL TABLE
Wide base table with 5ins wide legs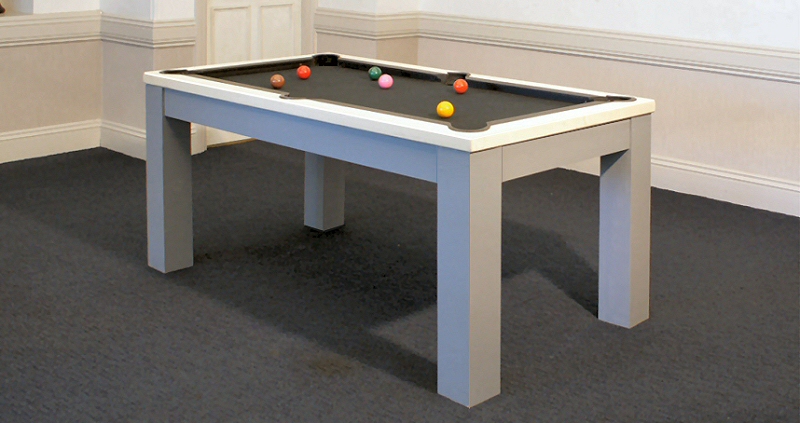 PAINTED PINE: ANY COLOUR COMBO
Choice of 19mm slate bed, or 25mm reinforced resin bonded MDF. Made throughout from solid pine and in any colour of your choice. Plays 2ins balls. Bucket pockets.


Shown here with in painted grey wood with contrasting natural wood top. A 5ft table come with the option of a one-piece diner top, either to match the table or contrast with a colour scheme.
WIDE SELECTION OF CLOTH COLOURS
MAIN 5ft POOL TABLE FEATURES
● Plays at 60 ins x 30 ins ● Dines at 66 ins x 36 ins
● Option to vary dimensions ● Options to vary height
● Competition pockets ● Competition cushions
● Competition cloth ● 2 inch pool or snooker balls
● Resin bonded 25mm play surface
● Option of slate bed
● Option of diner top ●Can be adapted for outside use
PRICING & SIZING GUIDE
Table Prices

5ft
6ft
7ft
Optional diner tops from £450

Resin-bonded bed

£2750
£2750
£3500

Slate bed

£2850
£2850
£3950

These are a an ex-works bespoke pricing guide and allow for any choice of paint-colour finish and any cloth colour. We can supply ball sets for any game and cues in any size from 36 inches upwards. Personal us-to-you delivery and professional installation (charge based labour costs on travelling distance.)
Standard Table Sizes in Inches
5ft
6ft
7ft

Competition table height normally set at 31inches. Can be varied.

Bed dimensions
60 x 30
66 x 35.5
75 x 39
Cueing dimensions
57 x 27
63 x 32.5
72 x 36
Dining dimensions
66 x 36
72 x 41.5
81 x 45
Any variations on these dimensions are offered

IMPORTANT: Please first note our current COVID notice posted on our homepage.

For more information E-Mail us at:
Email link will automatically show subject as:
"Enquiry from Chunky pine page"
Navigate this site ▼