Drop pockets or retractable nets
Please note that for UK competition pool the terms 6ft, 7ft and 8ft refer to the approximate dimensions of the outer table carcass and not the play bed. Although there are no formally agreed industry standards, B.A.P.T.O (British Association of Pool Table Operators) set out appropriate fixed dimensions for competition play and their website gives information on this. Whereas for an undersize 5ft and 4.5ft version, we equate to the precise dimensions of the machined play bed (slate or 25mm MDF). This can cause confusion in that, for example, a 5ft table is only 6 inches less than a 6ft table. Moreover, as most pool tables sold on the Internet are imported (universal) pool tables, actual dimensions are conflated with American pool and will vary considerably. As bespoke table makers we can create any pool table dimensions to your instructions. However the matrix below shows the measurements we ordinarily work to. Before you contemplate your own project you should first refer to this sizing matrix and be satisfied that the size of table will fit your room space.
Standard Pool Dining Table Sizes in Inches
| | | | | | |
| --- | --- | --- | --- | --- | --- |
| | 4.5ft | 5ft | 6ft | 7ft | 8ft |
| Bed dimensions | 54 x 27 | 60 x 30 | 66 x 35.5 | 75 x 39 | 86 x 44.5 |
| Cueing dimensions | 51 x 24 | 57 x 27 | 63 x 32.5 | 72 x 36 | 83 x 41.5 |
| Dining dimensions | 60 x 33 | 66 x 36 | 72 x 41.5 | 81 x 45 | 92 x 50.5 |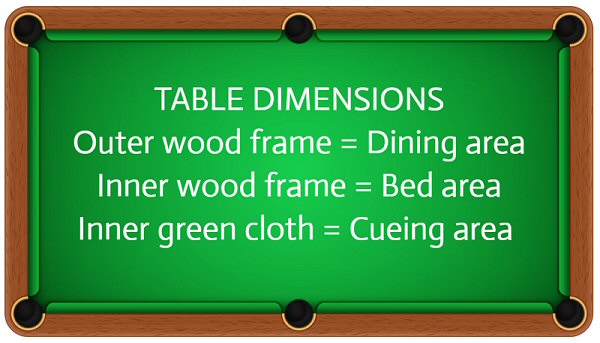 Play height 31ins. Dining height 32ins (can be varied)


If you have the space to accommodate a larger pool dining table (7ft or 8ft) most of the advertised pool dining tables will be slate bed tables. Slate will literally last forever.
If it is Italian quarried slate, it will be perfectly machined to the various standards that satisfy those nationally agreed by the billiards governing bodies. BAPTO (British Association of Pool Table Operators) regulates competition standards for pub-type pool.
Snooker and American pool have their own governing bodies, where standards focus on full size tables (12ft for snooker or 9ft for American pool) although standards can be arbitrarily and proportionately reduced to fit a pool dining table.
Wood bed (or composition MDF) tables provide an alternative for pool dining tables. They are normally associated with smaller low price tables. In recent years there has been a flooding of the global market by far east manufacturers. By using much lighter materials they able are to mass produce, package and distribute tables with a supply chain essentially direct from factory to consumer (via national agents). If your objective is simply to play a fun family game on a functional pool dining table, such imported tables represent excellent value.
However, if you want a competition high-furniture quality table, you need to consider, (particularly for a 7ft or 8ft table) that it becomes a rigid "fixture". It cannot safely be moved or repositioned in any way unless by a professional fitter. Should you anticipate the need for only occasional manoeuvrability (say if it is diner table) you should consider a bespoke wood-MDF bed. This requires using high grade kitchen quality resin-based 25mm MDF, which is individually machined to the same standard as slate.
If you have space restrictions and are limited to a 5ft pool dining table (or even smaller) a bespoke wood-MDF bed will play with the same accuracy as slate.
All our English pool tables have machined pocket openings complying with agreed competition standards, whether slate or one inch thick MDF. For slates 5ft and under, we have to outsource the cutting-down of a standard 6ft slate. This is an expensive process and adds considerably to the final cost of the table. We do not recommend this. But if a reduced slate is seen as essential to you, we will happily quote for this option. We make billiard tables to match any game discipline and ball size.

Most families looking for a pool table to convert as a dining table would ordinarily prefer a 6-seater dining function. What we refer to as a standard "5ft table" actually gives a dining dimension of 5.5ft x 6ft which is the optimum for comfortable 6-seater dining. And a table with a centre leg support allows for comfortable and proportioned seating for 8 persons. It is for this reason that we recommend a 5ft table particularly for modern kitchens and dining areas. For these tables we recommend a one-piece diner top. It avoid spillages and drips onto the baize (not least when cleaning the surface). Two able adults can remove and replace the top when required. We normally supply oak veneered 18mm resin-bonded MDF for rigidity and machined to the precise dimensions to incorporate a hard wood edge. However for those who prefer the ease of a 2 piece top we can engineer various options including a high furniture "breadboarded" top. The third and cheapest option is to have your own plywood or MDF pieces cut to size and rely on a modern wipe-easy table cloth for which there are now many styles and patterns offered on-line to suit you own decor.

Drop pockets or retractable nets

Drop (or bucket) pockets are normally employed on pool dining tables where the intention is to disguise a traditional billiards function in favour of conveying a prime "dining" atmosphere. This requires requires a furniture "skirt" surrounding the cushions and pockets which conceals the ball capture. The varying depth of the skirt (and bucket drop) will affect the number of balls that can be captured and will also affect leg room when in dining mode. If your preference is for a slim dining appearance, then a skirt is not employed. When the pool dining table is in play mode, retractable nets fall down, and are tucked away when dining.

Most traditional pool dining tables are supported by a table frame, consisting of 4 legs. The sub frame will be set inside the cushions and play area. Again this allows the ball capture to be external to the frame, offering various options. This we refer to as a "narrow base table". Although this maximises table rigidity, it may restrict the leg room in proportion to the upper dining dimensions. The legs would ordinarily be made of solid wood.A more modern variant is a "wide base table". Here the legs are set at the extreme corners of the upper table frame. The balls are collected either in a bucket or shallow tray inside the top of the legs. This means the legs have to be glued, joined and boxed to create the aperture.

A typical "slimline" table will employ slim table legs (4inch or less) which will be solid (not boxed). As with a narrow base table the top frame can be set outside the legs, and is best suited to retractable nets if you wish to preserve a slim top-frame. If you prefer a wide base base style the ball capture has to set inside the legs. This requires the balls to be captured inside the outer sub-frame by within a shallow tray. A slim line wide base table maximises seating space Metal or Wood legs

For those seeking a more modern look, particularly if the aim is to maximise seating and leg room we are able to provide the option of fabricated steel legs. These come in various style patterns and colours, as an alternative effective support for a pool dining table. These are set to achieve a playing height of 31ins giving a seated dining height of 32 ins. We can arrange for these set height patterns to be varied if preferred, except it will add appreciably to cost.

Choosing a Pool Dining Table

Please note the images presented on all the pages on this website are of pool dining tables that can be adapted to your individual preferences and and made in any size or style from 4ft to 8ft.

▼▼▼▼

LINKS TO ALL POOL TABLE PAGES

4ft, 5ft, 6ft POOL DINING TABLES

A wide selection of 5ft pool table designs that can be adapted to 4.5ft or 6ft table models.

White Pool Table Bucket Pockets

Larger table sizes to show various ball capture methods:

7ft Narrow Base Kitchen Pool Table

7ft Narrow Leg Side Channel Pool Table

Larger table styles that can be also adapted to any size: